Engineering Metal Oxidation Using Epitaxial Strain
Result of the Month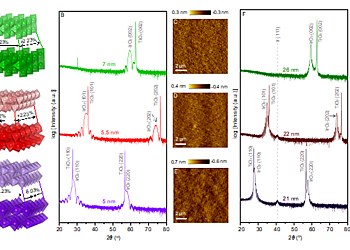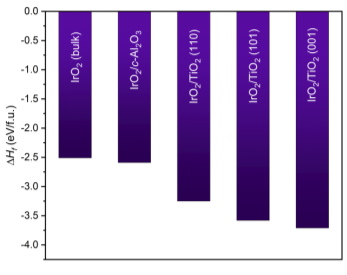 Calculated formation enthalpy using DFT-GGA for bulk single crystal IrO2 and IrO2 when grown as an epitaxially strained film on various substrates for a fixed oxygen chemical potential. A modified definition as described in the main text (where formation enthalpy is defined with respect to epitaxially strained Ir as the reactant with oxygen) was used to calculate the formation enthalpies.
With increasing need for more energy efficient electronics and high-performance catalysts for a sustainable future, it has become imperative to devise new approaches to synthesize the desired materials with atomic level precision. In this work, we introduce epitaxial strain as a knob to control and enhance the oxidation of hard-to-oxidize metals to make high-quality metal oxide thin films which show unconventional electronic and magnetic properties, essential for next-generation sustainable technologies.
Using the EVO-50 UHV oxide MBE system equipped with a radio-frequency oxygen plasma system, custom low temperature effusion cell for the metal-organic Ir source, beam flux monitor and RHEED, we were able to grow high-quality IrO2 thin films and study the subtle effects of reactant fluxes and type of substrate on the resulting film composition.