The Argus CU analyser offers outstanding sensitivity, simple handling and maximum convenience during your XPS measurements. In addition, the Argus CU is accurately characterised for quantification and allows spectroscopy with excellent snapshot performance also when operated with large apertures.
The Argus CU lens design incorporates a thoroughly optimised compression unit which delivers a line focus at the entrance of the hemisphere. The width of the line focus is - to the first order- independent of slit shape and analysed sample area. The lens system features a selectable analysis area from < 60 μm diameter to large areas > 10 mm. A wide acceptance angle ensures excellent count rates.
Contact Us
Email: info@scientaomicron.com
More Information
Argus CU (R)
The Argus CU (R) is a version of the high intensity Argus CU analyser that includes the mechanics of the Argus CU lens design but is delivered without the electronics necessary for CU mode operation. The electronics upgrade can then be made separately.
The upgrade to full Argus CU functionality can be done at customer site and without removing the analyser from the system or breaking vacuum. The upgrade concerns computer, software and high voltage system.
This option presents an easy path to gain future access to the CU concept. An upgrade to the full CU version will greatly enhance the count rates since the CU unit transform the divergent electron beam originating from an extended round analysis area into a flat beam that passes the analyser entrance slit without transmission losses.
128 Channel Stripe Anode Detector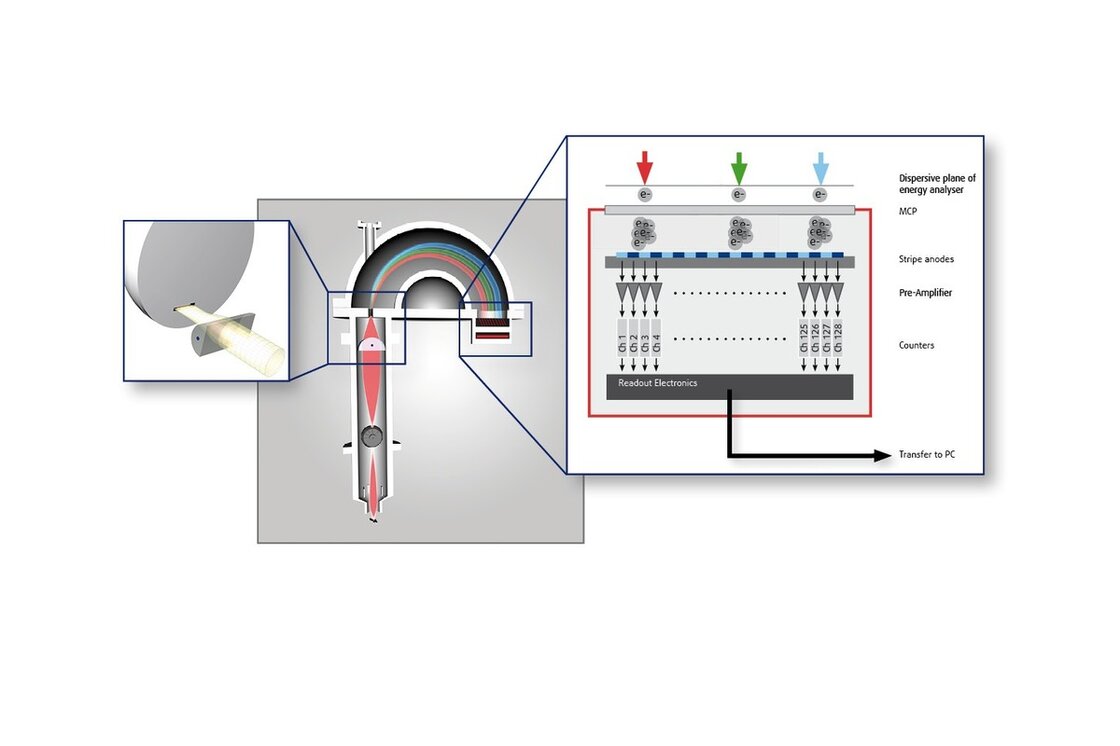 Argus CU includes a unique 128 channel stripe anode detector which provides massive parallel detection. The detector channels at the exit of the hemisphere are orientated along the dispersive plane so that they record 128 different energies in parallel while integrating incoming singles along the non-dispersive plane. Despite of being a dispersive element the analyser´s hemisphere - in a simplified picture - can be reduced to a non-magnifying lens. This means that the image in the entrance is projected 1:1 to the exit of the hemisphere. For multi-channel detectors it is therefore ideal to fill the hemisphere´s entrance with a line shaped electron beam which has similar dimensions as single anode of the multichannel detector. The Argus CU fulfils this demand by compressing electrons in the non-dispersive plane (see Fig. 1) while keeping transmission high. As a result the analyser offers outstanding sensitivity, simplified handling and maximum convenience during operation.
Argus CU Analyzer: Snapshot Mode
This short video shows how rapidly a high-resolution X-ray photoelectron spectrum can be acquired by using the snapshot mode of the Scienta Omicron Argus CU analyzer. The snapshot mode can either be used for rapid data acquisition of single transitions or observation of dynamic spectral shifts caused by external variations, like sample temperature change or chemical reaction.
Specifications
Detector type
128 channel striped anode detector
For full specifications and more information about product options, please do not hesitate to contact your local sales representative.
Find the contact details here: Contact Us
Results
Origin of Interface Limitation in Zn(O,S)/CuInS2-Based Solar Cells
Copper indium disulfide (CuInS2) grown under Cu-rich conditions exhibits high optical quality but suffers predominantly from charge carrier interface recombination, resulting in poor solar cell performance. An unfavorable "cliff"-like...
Downloads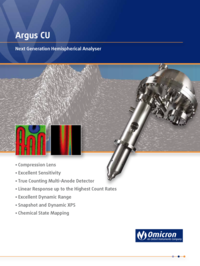 ARGUS CU: High Transmission XPS Analyser
Argus is a high-transmission, high-speed hemispherical analyser with multi-channel detection technology developed and optimised for uncompromised photoelectron spectroscopy. Argus represents a unique approach to multi-channel XPS detection, matching today´s demanding requirements for fast and trusted quantitative XPS, ease-of-use and reliability.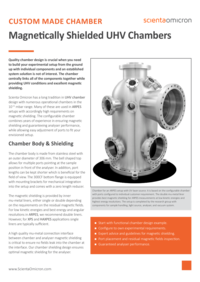 Custom Made Chamber: Magnetically Shielded UHV Chambers
Quality chamber design is crucial when you need to build your experimental setup from the ground up with individual components and an established system solution is not of interest. The chamber centrally links all of the components together while providing UHV conditions and excellent magnetic shielding.