| | |
| --- | --- |
| Scienta Omicron Newsletter | 09-2023 |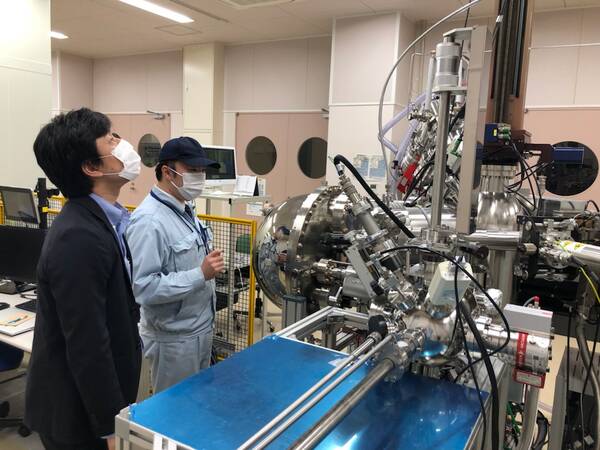 Dear Madam / Dear Sir,
Welcome to the January 2022 edition of the Scienta Omicron Newsletter that provides you with the latest news in surface science, materials science, and nanotechnology research and instrumentation.
In this edition you will find the 'Result of the Month' for January where the publications´ authors share additional insights about their recent research results. You will also find news about installations, recent research publications and upcoming conferences. As well as information about Scienta Omicron open positions, service training, and newly updated product information.
Please visit our website for more information about Scienta Omicron's product and services or contact your local sales or service representative.
We thank you, our customers and well-wishers, for your unrelenting support and resilience over the past one year. We are proud to be part of the international research community and look forward to continuing to support you to meet your research goals into the future.
Yours sincerely,
Scienta Omicron Team
Webstie: https://scientaomicron.com
Email: info@scientaomicron.com
Featured Product

HiPP Lab: Advanced Measurements Made Easy

The Scienta Omicron HiPP Lab is a state of art ambient pressure photoelectron spectroscopy (APPES) system designed for XPS of solid, gas and/or liquid sample environments under several mbar. It is optimized for speed to result by its stability, simplicity and user-friendly design. The system is based on the most modern concepts of APPES, including features like easy accessible chamber, small spot light source and high throughput analyser with swift acceleration mode.
Result of the Month (ROM), Jan. 2022

Band-Selective Holstein Polaron in Luttinger Liquid Material A0.3MoO3 (A = K, Rb)

In this work, Y. L. Chen & L. X. Yang et al. study molybdenum blue bronze A0.3MoO3 (A = K, Rb) using laser-based angle-resolved photoemission spectroscopy (laser-based ARPES). Their experiment suggests that the normal phase of A0.3MoO3 is a prototypical Luttinger liquid, from which the charge-density-wave emerges with decreasing temperature. Prominently, they observe strong renormalizations of band dispersions, which are recognized as the spectral function of Holstein polaron derived from band-selective electron-phonon coupling in the system. Laser-based ARPES measurements were performed using DA30-L analyzers from Scienta Omicron.
New Installation

University of Nottingham: New MIP for Epitaxial Growth and In-situ Analysis of 2D Semiconductors

Scienta Omicron has recently delivered a new Materials Innovation Platform (MIP) for epitaxial growth and in-situ analysis of 2D semiconductors (EPI2SEM) at the University of Nottingham. The new Ultra-High Vacuum (UHV) MIP combines a PRO-75 MBE for thin-film synthesis, a NanoESCA module for band structure and chemical analysis, and a Multiprobe Prep module with VT SPM for surface morphology studies. All modules are interconnected by a Linear Transfer Line (LTL).
Research News

A New Platform for Controlled Design of Printed Electronics with 2D Materials

A team of scientists have shown how electricity is transported in printed 2D materials, paving the way for design of flexible devices for healthcare and beyond. They identify what properties of 2D material films need to be tweaked to make electronic devices to order, allowing rational design of a new class of high-performance printed and flexible electronics. Lead researcher Dr Felice Torrisi, from the Department of Chemistry at Imperial College London, says: "Our results have a huge impact on the way we understand the transport through networks of two-dimensional materials."
Service Training

MATRIX Programming Training

MATRIX offers powerful capabilities with its rich programming interface. Though MATRIX's functionality is well documented, even experienced programmers may appreciate support to explore the aspects and procedures of the software that are less obvious. This course is intended for people already experienced in using MATRIX with at least basic programming skills who want to take their SPM to new heights.
Open Position

Software Engineer / Tester

Do you have a master's degree in software engineering, or similar, and at least three to five years of industrial experience from embedded systems preferably in MS Windows environment? Do you have experience from working with both manual and automatic software testing and have experience from structured System design/SW development methods and tools? If yes, then Scienta Omicron would like to encourage you to apply for this position to be part of an exceptional company based in Uppsala, Sweden. Start into a future with the best development opportunities and the security of a globally active group of companies.
Open Position

Field Service Engineer (M/F/D)

Do you have a bachelor´s degree or master's degree in physics, electrical engineering or mechatronics or a doctorate degree in scientific subject and gained experience with working on surface science UHV systems? Do you have experience or knowledge in one or more of the areas: MBE, SPM, ESCA, ARPES, and HAXPES? Scienta Omicron is currently looking for a Field Service Engineer to join our services team in Taunusstein, Germany. Start into a future with the best development opportunities and the security of a globally active group of companies.