| | |
| --- | --- |
| Scienta Omicron Newsletter | 12-2023 |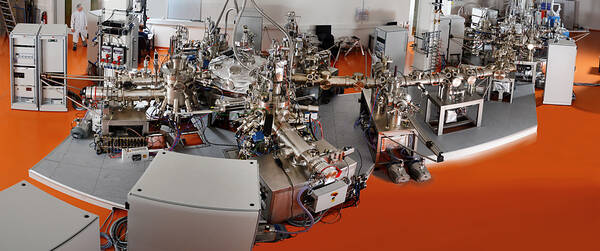 Message from CEO Johan Åman
Over the past one year the global COVID-19 situation has caused our company to work differently and change operational process, but we are pleased to report that progress has continued well despite the uncertainty of the time period.
We thank you, our customers and well wishers, for your unrelenting support and resilience over the past one year. We are proud to be part of the international research community and look forward to continuing to support you to meet your research goals into the future.
Scienta Omicron Newsflyer 

Spring 2021

The Spring 2021 edition of the Scienta Omicron Newsflyer provides you with an update on Scienta Omicron during the challenging year (2020) with a pandemic COVID-19, updated product offerings to suit our customers´ research needs, a selection of high impact results acquired using Scienta Omicron instruments and systems, and highlight the work or our customers that are contributing to the field of surface science and nanotechnology.
New Video

Argus CU Analyzer: Snapshot Mode

This short video shows how rapidly a high-resolution X-ray photoelectron spectrum can be acquired by using the snapshot mode of the Scienta Omicron Argus CU analyzer. The snapshot mode can either be used for rapid data acquisition of single transitions or observation of dynamic spectral shifts caused by external variations, like sample temperature change or chemical reaction.
Featured Product: LEED 450

Compact LEED to Fit any UHV System

The LEED 450 with integral shutter has LEED and AES capabilities using a miniature electron gun, set of concentric grids and a conductive, phosphor coated screen. It is an extremely reliable high-performance LEED instrument which operates with up to date digital power supply. The wide viewing angle (90° at 32 mm sample distance) and minimal shadowing of the screen by the miniature electron gun give a maximum visible LEED pattern.
Researcher Spotlight: Atsushi Ogura

High Energy X-rays a Vital Tool to Probe Within Materials

Interfaces between materials play a vital role in many areas, from electronics to artificial blood vessels. Professor Atsushi Ogura at Meiji University in Tokyo, Japan is at the cutting edge of the study of interfaces buried within materials. A better understanding of these buried interfaces may lead to more efficient solar cells and batteries, artificial bone, more efficient electronic devices, and many other applications.
Result of the Month, April 2021

Correlating Josephson Supercurrents and Shiba States in Quantum Spins Unconventionally Coupled to Superconductors

Here, Paolo Sessi et al. use scanning Josephson spectroscopy to directly visualize the effect of magnetic perturbations on Cooper pair tunneling between superconducting electrodes at the atomic scale. By increasing the magnetic impurity orbital occupation by adding one electron at a time, they reveal the existence of a direct correlation between Josephson supercurrent suppression and YSR states. Moreover, in the metallic regime, they detect zero bias anomalies which break the existing framework based on competing Kondo and Cooper pair singlet formation mechanisms. Based on first-principle calculations, these results are rationalized in terms of unconventional spin-excitations induced by the finite magnetic anisotropy energy.
Latest News

Scienta Scientific AB Acquires Leading German Business

Scienta Scientific has acquired Envinet GmbH as of March 31, 2021. Our business unit area Scienta Sensor Systems and Envinet will together create the new application area Environmental Protection within Scienta Scientific under the joint brand Scienta Envinet.
Latest News

The ARTOF-2 Time-Of-Flight Analyser

Prof. Nuh Gedik, Massachusetts Institute of Technology: "The ARTOF is a very nice analyser especially for performing time resolved studies. Operation is more involved than hemispherical analysers and extra care must be taken to avoid MCP ageing. But having the capability to measure the entire dispersion of the 2D angular acceptance cone without having to rotate the sample or use sequential deflection is very useful."
Service Upgrade

SXM Trade In for SCALA SPM Controllers

The new SXM Control System comprises state-of-the-art electronics and software solutions for Scanning Probe Microscopy (SPM). The SXM hardware features low noise, large detection bandwidth, configurable A/D and D/A converters, integrated digital Lock In amplifiers. The SXM software offers standard SPM modes as well as advanced spectroscopy and manipulation experiments. A dedicated interface readily supports a variety of our established Scienta Omicron SPM products.
Open Position

Finance Manager Deutschland

Als Finance Manager Deutschland (w/m/d) bei Scienta Omicron tragen Sie die Verantwortung für alle finanziellen Themen, einschließlich Steuern und internem Audit. Sie arbeiten eng mit dem Leiter des Konzernrechnungswesens, mit dem Finanzteam sowie mit wichtigen Stakeholdern in der deutschen Organisation zusammen. Wir freuen uns zudem auf Ihre Impulse und Ihre Mitarbeit in unseren Projekten im Bereich Group Finance.
Open Position

1st Line Service Engineer (m/f/d)

Scienta Omicron is looking for a new team member as a 1st Line Service Engineer to join our Services and Support Team in Taunusstein, Germany. This is an opportunity to join a team of specialists with focus on services, support and installations in Europe and Asia Pacific. Start into a future with the best development opportunities and the security of a globally active group of companies.