The Scienta Omicron VT SPM is the most commonly used workhorse SPM for room- and variable temperature applications. More than 500 instruments have been delivered and successfully installed around the world. The volume of research results including several thousand referenced publications is a conclusive proof of the performance, quality, and versatility of the Variable Temperature SPM design.
VT STM XA and VT AFM XA offer the full range of STM and AFM techniques under UHV conditions:
QPlusTM and beam deflection AFM
Kelvin probe microscopy
Magnetic force microscopy
Hydrogen de-passivation lithography
and many more. The VT SPM XA ensures high stability SPM work in a stand-alone UHV environment while various adaptations are available to interface the VT SPM Lab to larger UHV system clusters.
Contact Us
Email: info@scientaomicron.com
Downloads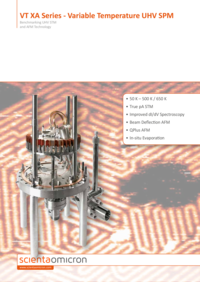 VT XA Series: Variable Temperature UHV SPM
The VT XA design forms a new series of VT instruments using standard Scienta Omicron samples plates. The philosophy of the XA series is to provide maximum compatibility with many different surface science techniques, like MBE, RHEED and different kinds of electron spectroscopy.
MULTIPROBE: Multi-Technique UHV Surface Science Systems
The modular and compact design of the MULTIPROBE systems has proven itself more than 1000-times and forms the core module for multi-technique Ultra-High-Vacuum (UHV) applications. A typical comprehensive MULTIPROBE system combines UHV SPM (at variable or dedicated low temperatures) and electron spectroscopy techniques (Mono-XPS, UPS, AES/SAM, etc.) with thin film growth facilities (MBE, PLD, Sputtering, etc.). Our strength is to combine a wide range of techniques in a single UHV system - with uncompromised performance.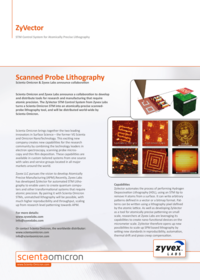 ZyVector: STM Control System for Lithography
Scienta Omicron and Zyvex Labs announce a collaboration to develop and distribute tools for research and manufacturing that require atomic precision. The ZyVector STM Control System from Zyvex Labs turns a Scienta Omicron STM into an atomically-precise scanned probe lithography tool, and will be distributed world-wide by Scienta Omicron.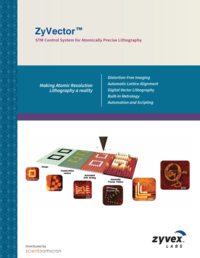 Zyvector Booklet
Zyvex Labs pursues research and develops tools for creating quantum computers and other transformational systems that require atomic precision, towards its eventual goal of Atomically Precise Manufacturing. As part of this effort, ZyVector turns the world-class Scienta Omicron VT-STM into an STM lithography tool, creating the only complete commercial solution for atomic precision lithography.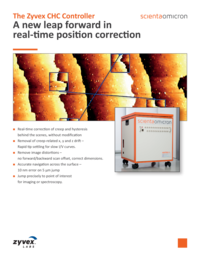 Zyvex CHC Controller
Scienta Omicron and Zyvex Labs announce a new leap forward in STM design; real- time position correction. The ZyVector STM control system from Zyvex Labs uses live position correction to enable atomic-precision STM lithography. Now the same live position correction technology is brought to the Matrix STM control system for microscopy and spectroscopy users, enabling fast settling times after large movements in x, y and z, and precise motion across the surface, landing and remaining at the desired location.